Saves time

Increases
productivity

Remove
physical files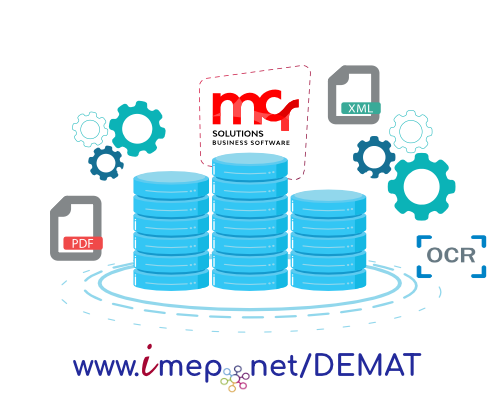 Quick ROI

Programmable
processing

Editable
documents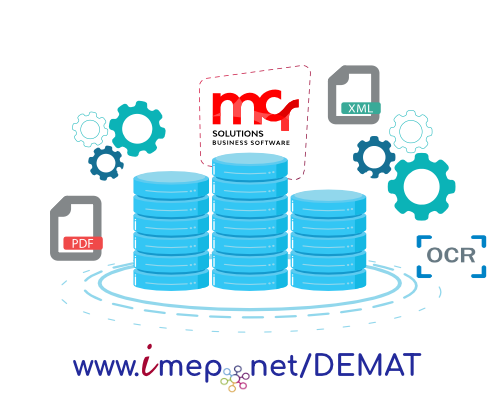 What is iMep.net/DEMAT and which are its advantages?
iMep.net/DEMAT uses OCR technology to convert, recognise and digitally manage scanned paper and readable documents in various formats such as PDF, PNG, JPEG, HTML and many more, quickly and efficiently.
OCR (Optical Character Recognition) is the technology used in iMep.net/DEMAT to distinguish printed or handwritten text characters within digital images of physical documents, such as a scanned paper document. The iMep.net/DEMAT process consists of examining the text of a document and translating the characters into a code (XML) that is used for data processing.
The data can then be edited, archived or left ready to be worked on in another application, performing integration with the application.
The advantages of iMep.net/DEMAT are to help extract the information quickly and accurately, to transfer it to electronic format and to facilitate the electronic management of these documents in an efficient, secure and agile way at low cost.
How can iMep.net/DEMAT help your business?
TIME SAVING
Entering data into a computer system for use in other processes is one of the tasks that requires a lot of dedication. The automation of this type of work means that this time can be used for more valuable tasks.
EDITABLE DOCUMENTS
Any text document, even an image, can be converted into editable document thanks to iMep.net/DEMAT. The system also allows you to search the text by keywords and compare documents.
QUICK ROI
The implementation of iMep.net/DEMAT is very fast and its maintenance is simple, so the return on investment is appreciated very soon.
PROGRAMMABLE PROCESSING
The processing of documents can be done at any time manually, or can be automated and programmed in batches of files.
GREATER PRODUCTIVITY AND HIGHER QUALITY OF SERVICE
Increasing the speed of information processing and eliminating the possibility of errors when entering data into the system increases productivity and ultimately improves customer service.
DELETE PHYSICAL FILES
With iMep.net/DEMAT you can have a digitalised and standardised document archive with accessible information. In this way, in addition to achieving a more efficient archive, the space dedicated to storing documents is considerably reduced.
IMAGE SCANNING
iMep.net/DEMAT scans the entire document, the images contained in the archive will also be scanned and can be used and edited.
REMOVAL OF CONFIDENTIAL INFORMATION
Allowing document editing, especially in the case of PDF documents, can remove confidential information and other "hidden data" such as metadata, comments, text layers, markers…
How does iMep.net/DEMAT work?
LET US HELP YOU OPTIMISE YOUR COSTS
If you have any questions about iMep.net/DEMAT or how it can be adapted to your particular needs, please contact us and one of our experts will contact you as soon as possible.