MCR EDI
optimization, fast,
security
and low costs


GET DEMO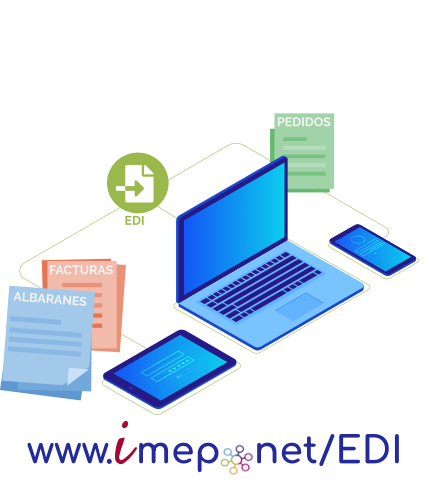 MCR EDI
optimization, fast,
security
and low costs


GET DEMO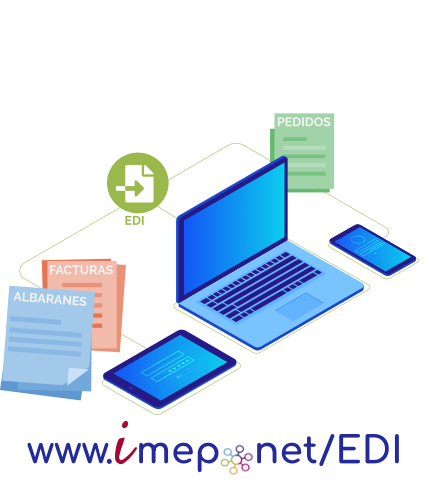 What is EDI?
EDI (Electronic Data Interchange) enables the exchange of standardized documents between the computer systems of those involved in a business relationship.
The sharing of the same communication code at a business level has provided a reduction in the number of documents that are exchanged in the different commercial operations allowing to speed up the business communication processes by offering all the details of a purchase order or invoice to the customer or supplier.
Any company, whatever its management solution (ERP), can adapt its platform for the transfer of communication by EDI thanks to the use of a common language that allows different information systems to interact with each other (orders, delivery notes, invoices, inventories, price catalogues, etc.).
CLOUD
iMep.net
Better information processing
RELIABILITY
Reduction of mistakes
Electronic information exchange in a standardized language
LOW COSTS
Cost reduction
Optimization of operational performance
Reduction in collection cycles
EDI: B2B Digital Business Platform
We help companies grow by implementing the iMep EDI module, so they can connect with any customer, supplier and logistics operator.
iMep has an EDI module, or Electronic Data Interchange, that allows the exchange of documents with any entity through a web service with complete functionalities for the creation, signature of invoices, consultation, printing and downloading of documents. Additionally, it has advanced functionalities to reuse order information in the generation of delivery notes, invoices, etc., avoiding the creation of documents from scratch. IMep offers an alert service to your company when a new document has been received, avoiding being continuously connected to the portal.
No technological change or EDI knowledge is required to use it. It is an intuitive and easy to use platform
In EDI they can be exchanged electronically: Orders, delivery notes, invoices, inventories and much more between different partners. This electronic exchange is possible thanks to the use of a common language that allows different information systems to interact with each other, automating their integration with any ERP or internal management system
EDI INTEGRATION
Fast integration
Intuitive platform
ORACLE
Synchronization of customer masters in Oracle from EDI
DASHBOARD
Complete display of transactions and orders
ERP & XML
Connector with any ERP or internal management system
XML output for any order in Oracle in a single button
WEB
iMep.com/EDI
Web Platform
Why use iMep?
We transform complex flows into simple ones through an easy and intuitive interface without the need for prior knowledge.
We create an integration system through our web platform without the need for any installation or the outsourcing of any service.
LET US HELP YOU OPTIMIZE YOUR COSTS
If you have any questions about EDI or how it can be adapted to your particular needs, please contact us and one of our experts will contact you as soon as possible.